'Bed Friend Series' is the hottest series which is another title produced by Mandee Work. It is currently planned to air in 2022. The series is based on the fiction of the same name by the author 'littlebear96', who has many well-known fictions.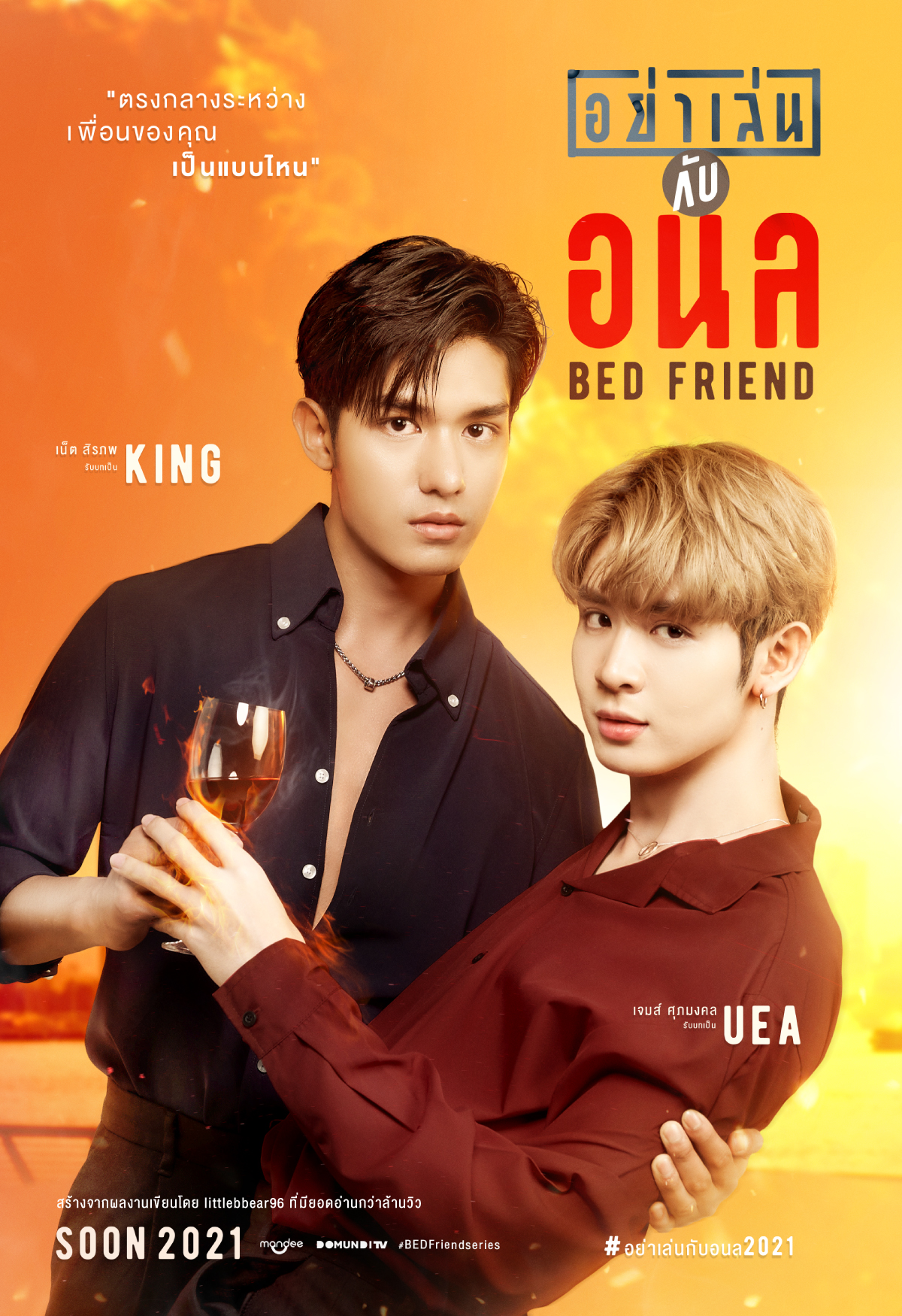 The series' name already tells us that BL series fans will definitely love 'Bed Friend Series'. They also brought the latest imaginary couple from DOMUNDI TV, 'Net – Siraphop Manithikhun' and 'James – Supamongkol Wongwisut', starring together for the first time as 'King Kunakorn' and 'Eua Anol'. They could be considered as a perfect imaginary couple since their chemistry really matches the characters. Plus, they are also intimate to each other in real life, even gaining the nickname 'madly in love couple' from fans already.
After Bed Friend Series' mini-intro was launched in May 2021, it got a lot of good feedback from the fans of both the fiction and the actors. The series' mini-intro on YouTube has already reached 200,000 views at the moment. Even though the length of this video is only 1.36 minutes, the characters 'King – Eua' can still convey their hotness.
They said "don't play with fire", but for this set of flames, the hotter it gets, the more I want to get closer.
This series is about 'King' (Net – Siraphop Manithikhun), a handsome office man who has a good job, but he seems to flirt too much. He doesn't have a girlfriend, only sexual partners. And 'Eua' (James – Supamongkol Wongwisut), a man with a beautiful face who is quite introverted. Both of them work in the same office. Even though they have known each other for a long time since they are both friends of 'Jade' (main character from 'Middleman's love series'), they do not like each other that much because King is quite an annoying person.
However, it seems to be a twist of fate, when the both of them got drunk and accidentally had a one night stand relationship, and King became fond of it. So, he offered a friends-with-benefit relationship to Eua under one condition; if either of them became too emotional or meet the right person, this relationship must end immediately. However, because Eua does not like King, he refused this offer at first. Later, Eua changes his mind because he was tired of being fooled by his loved one, so he accepted King's offer.
They started the relationship with no strings attached, they thought that they will definitely not have special feelings for each other. They acted like normal in the office, then they meet up after work. Days passed, Eua began to feel vulnerable because of King's attentiveness, which showed Eua the romantic side of King that he had never seen before.
The friends-with-benefits relationship gradually caused their hearts to tremble and fulfilled each other, becoming something more than a one night stand relationship. Will 'King' and 'Eua' be able to continue their relationship or will they end it like that?! Follow how relationship folds out soon!
Follow and update the movement of 'Bed Friend Series' On Twitter: @BedFriendSeries.
Related articles