'Bite Me Series' will make you feel full and satisfied! You can immediately tell from the series' name that it is about cooking. It is directed by 'David Bigander', and produced by The Dream and Destiny CO., LTD (THE DND). This is the first series that the 2 perfect chemistry lead characters, 'Mark – Siwat Jumlongkul' and 'Zung – Kidakarn Chatkeawmanee' are starring together.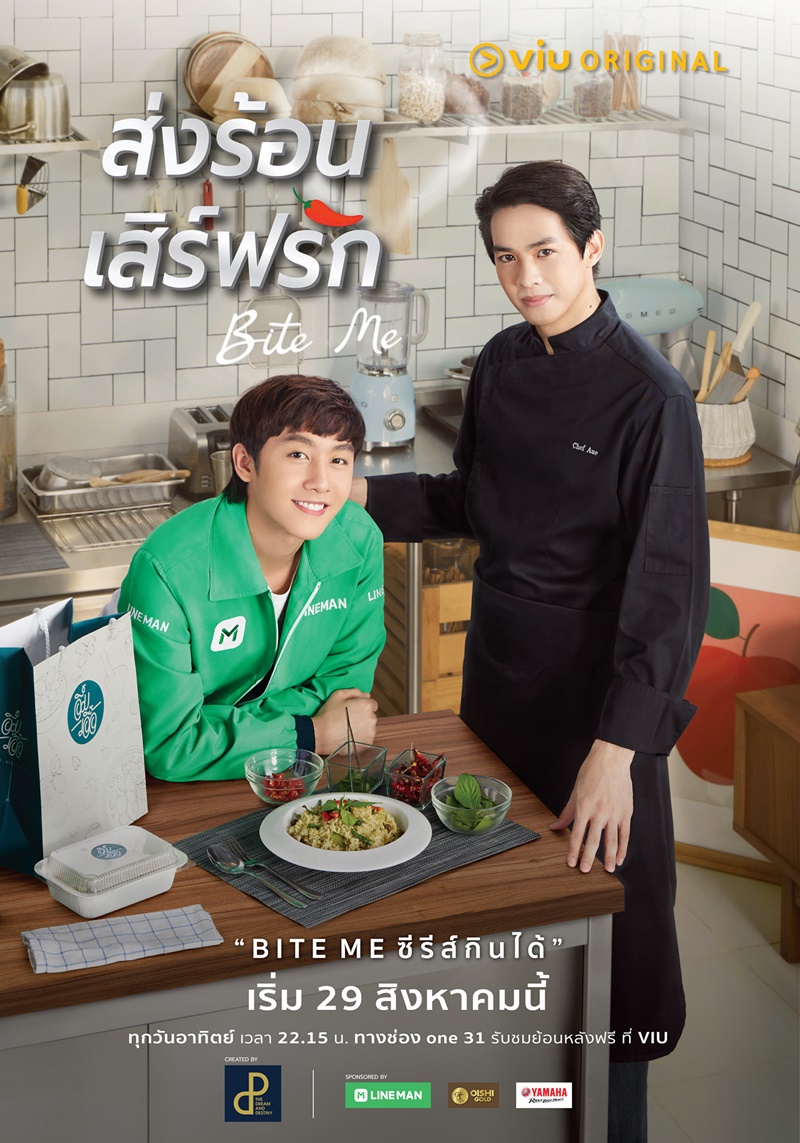 This series is based on a famous fiction work called 'Grab a bike', written by 'Sammon'. Besides the 2 lead actors 'Mark – Zung', there are also many supporting actors who provide colorful varieties to the series even more, such as 'Tongneng – Rudklao Amratisha', 'Boy – Trai Bhumiratana', 'Zani – Nipaporn Thitithanakan' and many more. Plus, real life chef 'Gameplay – Kanpapon Laoluekiat' stars in this series as well.
Get yourself ready! Because love is about to be delivered to everyone!
'Bite Me Series' is about 'Chef Aue' (Zung – Kidakarn Chatkeawmanee), a 30 years old chef, owner of the restaurant 'Imm Aue', a fulfillment of his dream, and 'Aek' (Mark – Siwat Jumlongkul), a 21 years old boy from the northern province. He moved to Bangkok to continue his studies in a university. Aek was working as a Lineman rider to deliver food and earn the money to feed himself. Moreover, Aek also has a dream to become a world-class chef.
Coincidence brought them to meet each other, Aek was waiting for a food order from the restaurant to deliver to the client, but the chef forgot his order. So, the head chef, Aue had to bring the order and a special meal to the rider himself. After they met, Aue noticed something special in Aek and he wanted to see this boy again.
When they met each other again, Aue asked Aek to work at Imm Aue restaurant. It seemed that the relationship between Aek and Aue was going well, both of them had special feelings for each other. One was an ordinary delivery boy, talented but lacked opportunities. The other is full of talent but lacked taste. Their encounter became a compliment for each other, leading to love, with their dreams as the stake.
How will the love and relationship between 'Aek' and 'Aue' be? Will they hold each other's hands and achieve their dreams? Let's find out the answer in 'Bite Me Series', the first edible series that will make you feel full and satisfied on ONE31, every Sunday at 10:15 p.m., watch all episodes on the application Viu. We are warning you to prepare food, because you will surely be hungry while watching it.
Related article