'Cutie pie series' is a romantic – comedy series, directed by the Mandee Work team. The story is based on a famous fiction of the same name by the writer 'แบมแบม' (BamBam). According to the series' name and the words they chose, it is obviously telling us that the characters are troublemakers for sure.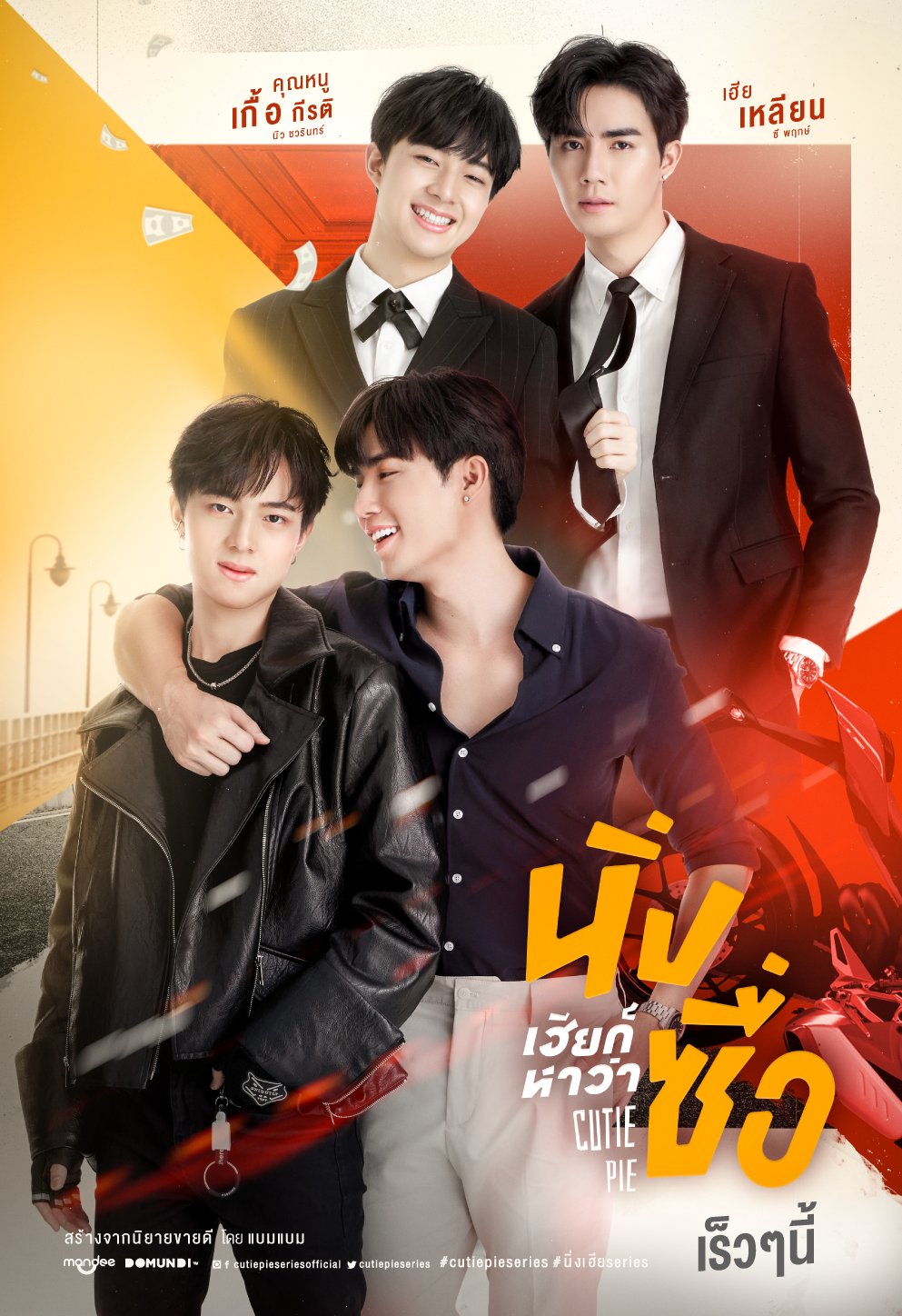 Since this series is based on fiction, the fans have been highly anticipating it. After the actors were announced, it got good feedback because they brought many excellent actors to star together, such as 'Zee – Pruk Panich' as 'Kilane Wang', 'Nunew – Chawarin Perdpiriyawong' as 'Kuea Keerati', along with many other supporting actors who will add more variety to the series, like 'Nat – Natasitt Uareksit' as 'Kon Deaw', 'Max – Saran Rujeerattanavorapan' as 'Hia Yi', 'Yim – Pharinyakorn Khansawa' as 'Sinsamer' and 'Tutor – Koraphat Lamnoi' as 'Nuea'.
When the Cutie Pie Series' mini-intro was released, it got good feedback and pushed the hashtag #นิ่งเฮียซีรีส์ (#Ninghiaseries) to the top Twitter trend. Even though the two main characters 'Kilane Wang' and 'Kuea Keerati' didn't say a single word, their body language shows us their extremely different personalities quite well. This makes the actors' fans and the fiction's fans eager to watch the series very much. Plus, the Cutie Pie Series' mini-intro has reached 700,000 views on YouTube already.
A smart businessman who will suppress a rich boy.
This series is about 'Kuea Keerati' (Nunew – Chawarin Perdpiriyawong) and 'Kilane Wang' (Zee – Pruk Panich). Kuea intends to marry Hia Lian when he grows up, and did everything to make himself perfect for Hia Lian. They are fiancées with 7 years of age difference, so Kuea seems like a little brother running after his big brother. Anyone in the high society who meets them say exactly the same thing, that they are a "match made in heaven".
However, 'Hia Lian' suddenly changed, turning their couple relationship into a 'Boat that almost sank.' Hia Lian who used to be polite, gentle and always adorable to 'Kuea', became an aggressive person and speaks rudely. When Kuea asked Hia Lian if he loved Kuea or not, he said "this is not it". After hearing this answer, Kuea will not take it anymore! He will go back to be a troublemaker like he used to be and break off the engagement.
How will the story of the messy relationship between the two fiancées 'Kuea' and 'Hia Lian' be? They will break their engagement or not? Maybe they have a secret that they are hiding from each other. Let's root together with them soon.
Follow and check out updates about 'Cutie Pie Series' on Twitter: @cutiepieseries
Related articles